Connect with Saint Luke's via Realm
our online church management system!
Realm offers a host of  features to improve efficiency and make participating in the life and ministry of Saint Luke's easier for members, church leadership volunteers, and staff:
simple ways to give online and check your giving records;
receive details, register, and pay for events, retreat, mission trips, and more;
access our online membership directory (previously in the "Church Life App")  and update contact/profile information for you and your family;
communicate with other members and groups via messaging and simple group emails;
assist the staff, deacons, and other volunteer leaders in caring for and connecting with the congregation and guests with up to date contact and participation information.
How do I sign in?
Every church member already has a Realm account, you simply need to follow these easy steps to set your password and sign in!
Step One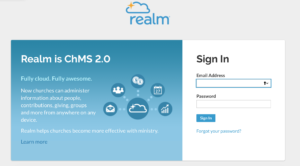 Step Two

 
• If you have signed in to Realm before, simply enter your email address and password on the Sign In page and click "Sign In."
• If this is your first time signing in to Realm, click "Forgot your password?" on the lower right side of the Sign In screen.  A new screen will open.
Enter your email address and Realm will immediately send you an email with a link to set your password.  Open the link, set your password and follow the prompt to sign in!
• If you have signed in before, but have forgotten or need to reset your password, simply follow the directions for first time sign in.
If you have difficulty with any of these steps, feel free to stop by the church office or send an email to

[email protected]

and someone will respond to assist you!
Realm Connect App
You can download and install the Realm Connect from the App Store for your version of smartphone or tablet for easy access to many Realm features.
Simply use your same Realm email and password to sign in on the app!