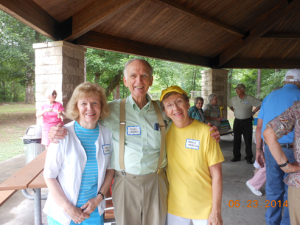 Senior Adults (OWLS)
2021 UPDATE: Due to Covid-19, the church building remains closed and our OWL gatherings are suspended until further notice.
OWLS (Older, Wiser, Loving Seniors) is the gathering of the older adults in our congregation.  We have a variety of programs and events, generally one per month.
Unless otherwise noted, we meet on the 4th Tuesday of the month from 11:30 a.m. to 1 p.m. in the Session Room or the Great Hall.  We hope you will see this as an opportunity to meet some new friends, learn something new, and have a good time while doing it.  So, if you're an Older Wiser Loving Senior, then come JOIN THE PARLIAMENT! (a flock of owls – or OWLS –  is called a parliament!)
As always, a big part of our getting together is catching up and getting to know one another better, so your being part of the group only makes it more enjoyable. We hope to see you at all of these interesting and fun events!