Habitat for Humanity 2020: Updates
Oct. 6, 2020: from Jenny Will, Habitat for Humanity coordinator
I am excited to share the progress that has been made on your project. The blue tarp is finally gone and the house has a beautiful new roof. Joseph also let me know that all plumbing work was completed on the house last week. You will see in the pictures that the front entrance has been updated. The house originally had a small entrance porch/ portico (not exactly sure what to call it?! It was very small and dark and not very practical). The crew took that area out and enclosed it- part of their plan to make the home a more open concept floor plan, so now the front door opens right into the living area just like new Habitat builds do. You will see this area closed in with boards at the moment, I'm excited to see how the crew finishes it down the road.
You will also see that most of the interior framing is now complete- and another whole dumpster was filled in the process! Tim Kelly spotted the existing hardwoods in my last email update and asked if they will be staying- looks like it to me if all goes as planned which will be a fabulous feature for Nilaja and her family! I've copied Nilaja on this email because I know she will be excited to see how her house is coming along!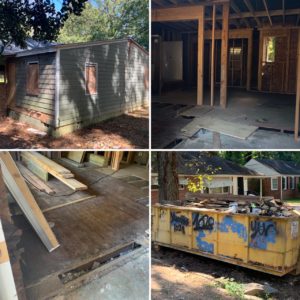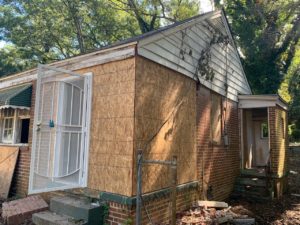 About Habitat for Humanity
Through the work of Habitat for Humanity, thousands of low-income families have found new hope in the form of affordable housing. Churches, community groups and others have joined together to successfully tackle a significant social problem―decent housing for all. Habitat for Humanity International was founded in 1976 by Millard and Linda Fuller. The Fullers called together a group of supporters to discuss the future of their dream and Habitat for Humanity International as an organization was born. The eight years that followed, vividly described in Millard Fuller's book, "Love in the Mortar Joints," proved that the vision of a housing ministry was workable. Faith, hard work and direction set HFHI on its successful course.
In 1984, former U.S. President Jimmy Carter and his wife Rosalynn took their first Habitat work trip, the Jimmy Carter Work Project, to New York City. Their personal involvement in Habitat's ministry brought the organization national visibility and sparked interest in Habitat's work across the nation. HFHI experienced a dramatic increase in the number of new affiliates around the country. Today, Habitat for Humanity is a true world leader in addressing the issues of poverty housing having helped build or repair more than 800,000 houses and served more than 4 million people around the world.
Partnering with Dodd-Sterling United Methodist Church, Saint Luke's has worked with Habitat for Humanity for nearly two decades and has helped to build more than 20 homes. For further information on Habitat For Humanity, please check the Habitat for Humanity website.