This year's Presbyterian Women (PW) fundraising project features notecards designed by eight Saint Luke's members (four adult and four youth). The notecards, which have two options – an adult pack and a youth pack, will be on sale before and after outdoor worship services on May 9th and May 16th.  They will also be available from 2- 3 pm under the portico on those Sundays, as well.  Cost is $15.  Each pack (adult or youth) includes eight notecards (two of each design).
Cash or checks, made payable to Saint Luke's PW, will be accepted.  Notecards may also be purchased by contacting PW Fundraising Co-chairs Janis Kilgore (404-731-5725) or Kimey Reed (404-441-8614).
Adult Artists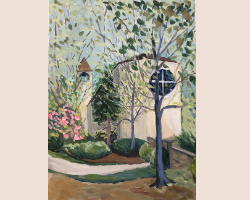 Leslie Cannon
Our family joined Saint Luke's about 15 years ago. I paint primarily in acrylics and am inspired by my faith, family and nature. I am most recognized for my Nest collection in which I customize the number of eggs to reflect the size of a family. This past fall, with the help of a few diligent assistants, I participated in the Dunwoody picnic table project with my version of the stained glass window. I recently joined the Board at the Spruill Center for the Arts and I am looking forward to my upcoming role as an Elder. I chose this view of our church as I wanted to capture the bell tower, the infamous window, the promise of spring and new life.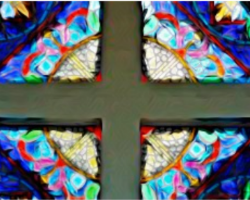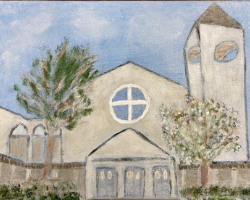 Pat Troxel
I have been a member of Saint Luke's Presbyterian Church for approximately 5 years. I am a member of Presbyterian Women, chairman of the Wedding Guild and on the Worship Committee. Although I have always loved and appreciated art, I didn't have the opportunity to pursue it until I retired a few years ago. Now that I have the time, I am enjoying this creative journey. I am a member of Spruill Center for the Arts' Guild as well as the Dunwoody Fine Arts Association. Currently I have work on display at Feldman Law Offices and Eight Flags Antiques on Amelia Island.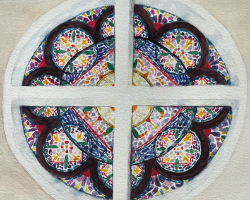 Les Woodsides
Laura and I have been members of Saint Luke's for 10 years. I have painted the stained glass window twice previously on the occasions of Jason Whitener and Steve Vance's departures. This notecard project has been an awesome "Lenten" exercise. I have had works displayed at several Spruill Gallery events.
Youth Artists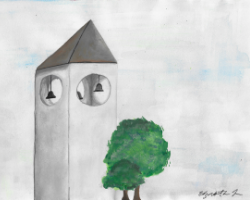 Elizabeth Lee
I have been a member of Saint Luke's for five years and confirmed my faith in 2018. I am currently a sophomore at Dunwoody High School and am active in the St. Luke's youth program. In 2019, the Dunwoody Preservation Trust selected my artwork for the 20th anniversary Lemonade Days t-shirt design. For this notecard project I chose to portray the St. Luke's bell tower as I feel it symbolizes the strength and beauty of our wonderful church community.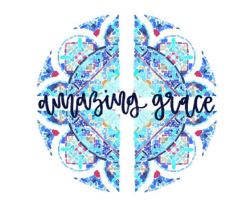 Elli McGoldrick
Hello! I am Elli McGoldrick! I am in the 9th grade at Dunwoody High School and have been a member at Saint Luke's for the past 10 years. I am a part of the youth group and love volunteering and doing mission work with the church. The piece I have designed is a recreation of the gorgeous stained glass in the sanctuary. It looks so beautiful when the light hits it and I wanted to create that effect with my artwork. I have always loved expressing myself through art and at the beginning of our pandemic life last spring, I started to explore creating digital art and ended up turning it into a business! If you are interested in seeing more of my work, you can find me on Instagram @elliraedesigns!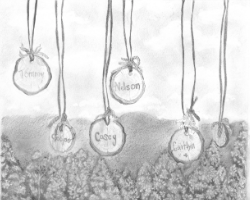 Rebecca Miller
My name is Rebecca Miller and I'm in 10th grade. I have been going to Saint Luke's since I was very young. I've become an active member of the congregation including serving on the youth council. I chose this image showing the tradition of nametags hanging over the rail in front of the mountains at Mountain Top which is one of the youth mission trips funded by the Tartan Trot.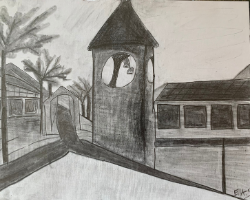 Ella Smith
I am Ella Smith, age 11. I attend Saint Luke's along with my parents Peggy & Trevor and younger brother Colton. I am in 5th grade at Cornerstone Christian Academy. I love to draw and paint. I also enjoy swimming and playing basketball and softball. I won the DeKalb County Art Star Award while in 2nd grade at Vanderlyn Elementary School.