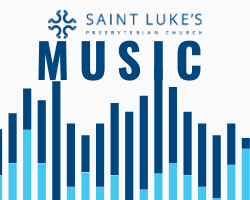 Virtual Music and Art
Check out our new Music and Arts resources for parents and kids with the theme of "In the Image." These are a series of various fun activities and songs based on the creation story that you can create, sing and discuss together in whatever way works best for your own home routine. We have created a special page on our church website, www.slpres.org/in-the-image, where you can find recordings, sheet music, "bible beats" spoken rhythms and suggestions for crafts and family worship/discussion time organized into 5 themed modules. We'd love to see what you're making, hear what you're learning, and spend time finding out how we are all made "In the Image" of God, and we look forward to a "creative" fall season of music and arts!
Ways Music Can Unite Us
Music is a vital part of being church together. While our ensembles take a break for a little while, here are some of the ways that we can use music to unite us:
HYMNS – sing the tunes or read the words as a devotion or prayer alone or in your own small group at home.
RECORDINGS – listen to the sounds of your favorite music when you need inspiration, peace, or joy.
PRACTICE – use this extra time to improve your musical skills or learn more about making music in a new way.
COMMUNITY – music is the universal language and participating in it brings us all closer together even in this uncertain time.
Contact Clair if you would be interested in knowing more about participating in upcoming virtual music opportunities at church.
Here are some musical resources for you and your family.
An archive of past choir recordings can be found on our website here
Hymns and Songs for Children and Families – use these suggestions for singing our faith all day long wherever you are
Find many ways to move to the music at home on Go Noodle
Learn how to read music! (Or, brush up on your reading skills.)

Take this Skills Assessment Test to see how much you already know. Submit it to Clair and let him know you are participating.
Watch Clair's online lessons on YouTube and complete the paperwork for each as you go.
More lessons to come….
---
Have an idea for a hymn or piece of music you'd like to hear over the next few weeks? Submit it below for consideration.
[Recordings of hymns used in our services each week can be found on our worship page.]
---