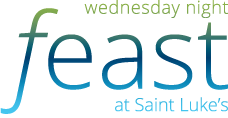 Join us for dinner, fellowship, choir rehearsals, and a wide range of opportunities to know and share in the love of Christ! You can register for dinner and classes for all 7 weeks (click here), or you're welcome to come and go as your schedule allows. Reservations can be made weekly by filling out a blue form (found in the pews) on Sunday and dropping it in the offering basket, or by calling the front desk (770.393.1424) on Monday. You will not feel left out if you can only occasionally drop by for a class or even just show up for dinner! Make this your mid-week time to recharge.
Here is how Feast works:
5:00-5:45 pm Children's choirs (Westminster and Cherub Choirs) rehearse
5:45-6:25 pm Dinner! Cost is $7 per person ($3 for 5th Grade & under), $20 per family max.
6:25-7:15 pm  Classes for all age groups; see descriptions below.
6:30-7:20 pm Festival Ringers (handbell choir) rehearse
7:30-9:00 pm Chancel Choir rehearses
---
2018 FEAST begins January 17 and runs for seven Wednesdays not including Ash Wednesday (February 14), concluding on March 7 with a variety show. Dinner begins at 5:45pm and programming begins at 6:25pm. Registration slips are located in the pew racks or you can access registration on our website: click here.  Please note dinner on Ash Wednesday (pancake supper)  is not included in the FEAST registration. 
Feast Classes for Early 2018
For Adults:
Getting to Know the Gospel of John This year in worship we are reading about Jesus according to John, and this class will help us appreciate the scriptures that are inspiring our Sunday life together. The Gospel of John is the most unique among the four Gospels, and shows us a side of Jesus like no other. John is poetic, metaphorical, and a profound expression of what we can know about God. In this class we will learn about who John was, to whom he was writing, what his main themes are, and how he should be read. Come join pastors David and Shannon to get to know John, and the God to whom his gospel points, in meaningful and engaging ways!
For Children: 
We welcome adult volunteers in every class! To lend a hand, please contact Catherine Anne Thomas.
Heroes of the Bible for ages 3 through Kindergarten.
Grow Together Now for 1st through 5th grade.
For Youth:
Mixed Bag  A fun mix of movies, running, playing, and creating. Every week will be a little different as we take a Sabbath break in the middle of the week.