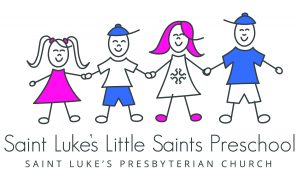 Saint Luke's Little Saints Preschool
Saint Luke's Little Saints Preschool is the accredited weekday school at Saint Luke's Presbyterian Church located in Dunwoody, Georgia. We serve families with children 12 months old through Pre-K. Our school reflects the close-knit community that is Dunwoody, with many of our families within walking distance.
Our staff is brimming with experienced teachers full of love for the children in their care. Learning through play in a Christian environment is at the core of our education and we strive to develop a positive self-image in each Little Saint. Find a spot on the rug for circle time, observe an experiment in the Science Lab and try your hand at popcorn math. Worship with us in weekly Chapel, play an instrument in Music and meet us on the playground for tag.
We are not just a school . . . we're a family!
For more information, send your mouse up to "Preschool" and scroll through to meet the Saint Luke's Little Saints Preschool staff, learn about our curriculum and more!
To arrange a tour, please contact:
Carol Perry, Preschool Director
770-393-1424 ext. 240
Click here for Enrollment Information