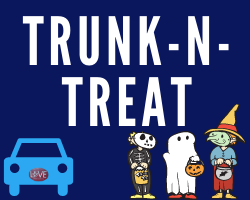 Trunk-N-Treat
October 25, 2020
5-6 pm
1. Sign the SLPC Covid-19 Waiver (if you have not done so already):
*NOTE: The SLPC Covid-19 Waiver covers all Saint Luke's activities for the year. Please only fill out once per year.
2. Register for the Event:
3. If you would like to Volunteer, complete the volunteer registration:
*NOTE: Volunteers must first register for the event.
It's Happening!
We are thrilled to announce that we have a plan for Trunk-n-Treating in a Covid-safe way! While it will look a bit different than before – we will have a prescribed direction of movement, mandatory face masks, and strict distancing at all times – but we can still have fun seeing each others' costumes, decorating our trunks and tailgates, and collecting lots of candy and other treats! Mark your calendar for Sunday, October 25th! The event will start at 5 pm in the Manhasset parking lots.
Be on the lookout for an email with all the details, including the link to the SLPC Covid-19 waiver and the required advance registration (also above). With a safety-focused limit on capacity, our 2020 event will be limited to Saint Luke's members and friends.
Please contact Catherine Anne, [email protected] with questions.
To read the SLPC Participant Expectations and Guidelines and sign the SLPC Covid-19 Waiver, click here.