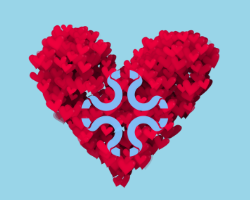 PW Valentine Boxes
The Presbyterian Women (PW) are sending Valentine Boxes to college students, military family members, and our home bound members. Please send the name & address of your college student or others to Saint Luke's Program Coordinator Erin Murray, [email protected] by Monday, Feb. 1.
Parents: please remember to include college students, graduate school students, and students taking a GAP year! You know they will all enjoy receiving a package full of love. Please send their current school address so that we can confirm we have the correct address on file. Please also let us know if your student has a nut allergy.
Donations for Postage & Treats
Postage
Donations for postage ($8/box) can be made online via Realm, or mailed to Saint Luke's member and PW Treasurer, Becky Loftis, at 575 Old Cobblestone Dr. Atlanta, GA 30350-5430.
Treats
Due to Covid and the delays of the USPS, store bought treats are preferred! Treats such as candy, popcorn, granola bars, etc., can be dropped off in a bin marked PW Valentines outside the portico on the Manhasset Dr. side between Tuesday, Jan. 25 and Thursday, Feb. 3. Please contact Saint Luke's member Sylvia Jackson ([email protected]) with questions or for more information.
Collection of Treats
Store bought treats can be dropped off in the marked bin outside the portico on the Manhasset Dr. side of the church. on Friday and Saturday.