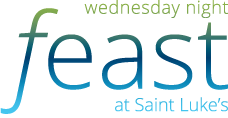 You can register for dinner and classes for all 7 weeks
(click here),
or you're welcome to come and go as your schedule allows. Weekly reservations can be made by filling out a blue form (found in the pews) on Sunday and dropping it in the offering basket, or by calling the front desk (770.393.1424) on Monday. You will not feel left out if you can only occasionally drop by for a class or even just show up for dinner! Make this your mid-week time to recharge.
---
Wednesday evening schedule:
5:00-5:45 pm Children's choirs (Westminster and Cherub Choirs) rehearse
5:45-6:25 pm Dinner! Cost is $7 per person ($3 for 5th Grade & under), $20 per family max.
6:25-7:15 pm  Program for all age groups; see descriptions below.
6:30-7:20 pm Festival Ringers (handbell choir) rehearse
7:30-9:00 pm Chancel Choir rehearses
We're at our best when we're together! There's more energy, more laughter, and more discovery. Each week's program has been carefully selected to help us dive deeper into our relationships with God and each other. ALL ages will be truly engaged each week! 
Sep 19 sometimes you gotta improvise  Led by Rev. Marthame Sanders, and our own Saint Luke's improv experts, we will engage in some improv together as we explore our faith! 
Sep 26 finding God in everyday  Using a few simple objects that you probably don't think twice about, we will explore our faith. Even a clothespin has something to say about faith! 
Oct 3 faith is anything but trivial  Questions of faith are one of the ways we actually grow in our faith. Tonight will be filled with questions and boundless answers!   
Oct 10 feeding through faith The Atlanta Community Food Bank will help us understand hunger in our community and how we can help. Bring a canned good to share.  
Oct 17 Different just like me  We will learn from some special people how to develop a better understanding of those whose needs differ from our own.   
Oct 24 faith leads the way  How does faith impact the way you view the world and live in it? We will explore this and more and see where it leads us!   
---
Dinner:
Join us in the Great Hall for a delicious mid-week meal that you don't have to cook! The weekly menu is created by our own Chef Quentin and includes adult and kid favorites. It even includes a little something sweet for dessert. The weekly menu for adults is listed below; the children's menu is in italics. An alternate choice of a peanut butter & jelly sandwich, carrots, and Ranch dressing is available each week.
September 19
Spaghetti casserole, French bread, tossed salad with vegetables
Kids option: Meatballs with pasta & marinara sauce, French bread, tossed salad (on side)
September 26
Country fried steak, red-skin mashed potatoes, broccoli with cheese sauce
Kids option: Chicken, buttered noodles, broccoli with cheese sauce
October 3
Herb baked chicken, sweet potato suffle, green beans almandine
Kids option: Pizza, carrot sticks, chips
October 10
Chili with rice & beans, grilled cheese, fruit
Kids option: Grilled cheese, chips, applesauce
October 17
Chicken Parmesan, steamed broccoli, rice & gravy
Kids option: Chicken tenders, broccoli with cheese sauce, fruit cup
October 24
BBQ, beans, cole slaw
Kids option: Hamburger, beans, chips