Faith Outside This Place
January 15 – February 26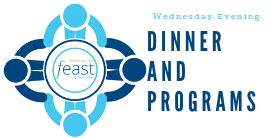 Make this your mid-week time to recharge! Join us for our Wednesday night dinner and program, "Faith Outside this Place," an intergenerational exploration of faith highlighting Saint Luke's "Being the Good" outside these walls.
You can register for dinner and classes for all seven weeks (click here) or you're welcome to come and go as your schedule allows. Weekly reservations can be made by filling out a form (found in the pews) on Sunday and dropping it in the offering basket, or by calling the front desk (770.393.1424) on Monday. You will not feel left out if you can only occasionally drop by for a class or even just show up for dinner!
To register for all seven weeks of FEAST, click here.
To register week-by-week, click on the dates below.
January 15 – Saint Luke's Mission Overview
Chicken Alfredo with fettuccine and broccoli, fruit cups
Kids-Chicken Alfredo with fettuccine and broccoli, fruit cup
January 22 – Memorial Drive Ministries
Chili with rice & beans, grilled cheese, fruit, Kids – grilled cheese, chips, applesauce


January 29 – Habitat for Humanity
Ham, mac-n-cheese, green beans, Kids – hot dogs, mac-n-cheese

February 5 – Community Assistance Center
Menu: Country fried steak, red-skin mashed potatoes, broccoli with cheese sauce, Kids – chicken tenders, buttered noodles, broccoli with cheese sauce

Register Here
February 12 – HOI
Menu: Spaghetti casserole, French bread, tossed salad with vegetables, Kids – meatballs with pasta & marinara sauce, French bread, tossed salad

Register Here
February 19 – Variety Show
Menu: Cajun style tilapia, rice with vegetables, steamed spinach with lemon, Kids – Grilled hamburgers with cheese, lettuce, tomatoes, Tater Tots

Register Here