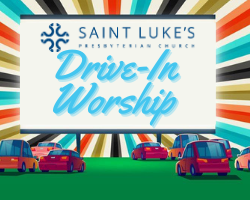 Oct. 4 & 18 and Nov. 1 & 15
5 pm
1. Sign the SLPC Covid-19 Waiver (if you have not already done so):
*NOTE: This waiver covers all Saint Luke's activities for the year. Please only fill out once per year.
2. Register for Nov. 1 Drive-In Worship:
3. If you would like to Volunteer, complete the volunteer registration:
*Volunteers must first register for the event.
We are pleased to announce that the Session has authorized bi-weekly drive-in worship services, beginning on Sunday, October 4th at 5pm in the Mount Vernon parking lot (10/4, 10/18, 11/1, 11/15). We celebrate being able to confidently offer a safe worship experience in person! Because the safety of our congregation will continue to be our top priority, the event will be carefully structured and managed. Here is what you can expect:
Households can attend either by 1) staying in a parked car and listening by FM radio, or 2) bringing chairs and sitting in an area designated for your household. We will have a sound system.
Those who choose to sit outside their cars will wear masks at all times.
Households will stay together at all times, with no hugging or handshaking outside of your household circle.
No bathroom access will be available except in case of emergency.
Worship attendance will be by reservation only, with a maximum of 50 households. While we wish we could accommodate every household, public health officials suggest limits. The service will also be offered via Facebook Live, via a link that will be shared by email and on our website.
Reservations can be made online or by phone starting on Monday, September 28 at 9 am.
Worship will last approximately 45 minutes, following our traditional liturgy and the same scripture as Sunday morning online worship. Music will be instrumental only.
Attendees will bring their own masks, hand sanitizer, and chairs if you choose to sit in them.
Drive-In Worship is weather permitting. Rain will result in cancellation of the event, which will be announced by 4 PM that day.
If COVID-19 case numbers rise to unsafe levels again, as with any event the Session will reserve the right to cancel for safety's sake.
We look forward to this new moment in our worshipping lives. More details to come, so keep your eyes on church announcements!
To read the SLPC Participant Expectations and Guidelines and to sign the SLPC Covid-19 Waiver, click here.