Life is wi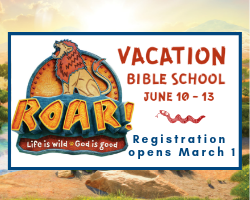 ld! God is good!
Make Saint Luke's VBS the MANE event this summer and join us Monday, June 10- Thursday, June 13, on an epic African adventure that will engage the whole herd! At ROAR, kids will explore God's goodness and celebrate a ferocious faith that powers them through this wild life.
VBS "in the Saint Luke's village" is for ages 3 (by September 1, 2018) through current 3rd grade. Kids in current 4th and 5th grades will enjoy daily adventures "in the wild" as they serve the community. All kids will discover that "life is wild, God is good". For more information, please contact [email protected].
Seeking Safari Leaders!
We need volunteers! Please visit the Saint Luke's Volunteer page to reserve your spot in the jeep on our wild adventure! This awesome week is not possible without amazing volunteers! There is a need and room for talents of all kinds – from leading a class (ages 3 – 3rd grade), to cinema viewings and discussions, snack preparation and presentation, assisting with outreach projects, Bible stories and dramatic interpretation, and more! Thank you in advance for your prayerful consideration to be a part of Vacation Bible School. Contact Stephanie McGoldrick with volunteer questions at  [email protected]. You can also contact Kate Davis at [email protected] if you are interested in opportunities to assist with colorful and vibrant decorations for the week – starting now!