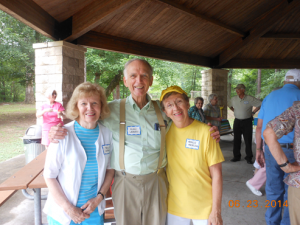 Senior Adults (OWLS)
OWLS (Older, Wiser, Loving Seniors) is the gathering of the older adults in our congregation.  We have a variety of programs and events, generally one per month.
Unless otherwise noted, we meet on the 4th Tuesday of the month from 11:30 a.m. to 1 p.m. in the Great Hall.  We hope you will see this as an opportunity to meet some new friends, learn something new, and have a good time while doing it.  So, if you're an Older Wiser Loving Senior, then come JOIN THE PARLIAMENT! (a flock of owls – or OWLS –  is called a parliament!)
As always, a big part of our getting together is catching up and getting to know one another better, so your being part of the group only makes it more enjoyable. We hope to see you at all of these interesting and fun events!  For more information, please contact Melba Gay via email – email Melba.
We had a great year together! Our new schedule will be available towards the end of the Summer. Look below for some of the fun things we did last year!
OWLS 2014-2015 Schedule
September 23 – Dr. Anne Hallum will speak to us on AIRGutemala. She is the Founding President for the Alliance for International Reforestation, better known as "AIR".  Since 1933, AIR had been working as a hunger ministry, educational ministry and environmental ministry. Anne will share stories and photos from years of working in Guatemala, including this past summer.
October 28 – Gerry-at-Tricks will perform in the Great Hall.   They are a musical group of seniors performing a mix of golden oldies, show tunes, country, and religious songs. They make music fun! 
December 13 – Christmas open house at Libby Neely's home. Time to be announced.
January 27 – Daniel Solberg,  a very talented young man, will present a program of comedy, music and singing. He uses the audience in his program and what fun it is!
February 24 – Dr. David Weinshenker, Associate Professor in Emory's Department of Human Genetics will speak to us. Topic to be announced.
March 24 – Ron Valdes is one of our own! He will lead us in Trivia and some of it will be quite surprising.